Choosing the perfect outfit to wear to a wedding can be a nerve-wracking experience for wedding guests, especially for those preparing to attend a Catholic wedding. You might be feeling cautious not just about the type of outfit to wear but also about the colors you should wear to the wedding. With some insight on the do's and don'ts, you should be ready to attend that Catholic wedding feeling confident.
So, what to wear to a Catholic wedding? Generally, men should wear shirts and ties, if not suits, considering most Catholic weddings are semi-formal. On the other hand, women can wear skirts, dresses, or even dress pants/slacks. With Catholic weddings, dressing modestly is of utmost importance. Also, Catholic weddings are not so different from other weddings. Therefore, take your cue from the wedding invitation, the time, and the season the wedding will occur. 
Wedding guests usually have a lot of questions in regard to what they should wear. For example, many guests attending a Catholic wedding are concerned about wearing black and sleeveless attires. Read on to learn whether you can wear black or sleeveless attires to a Catholic wedding.
Dressing Modestly: What Does It Mean?
When it comes to attending a Catholic wedding, there are several do 's and don'ts you need to familiarize yourself with before the wedding day. One of those things you need to familiarize yourself with is what it means to "dress modestly."
Do not be misled to think that dressing modestly means dressing in a boring manner. Dressing modestly means wearing wedding outfits that are attractive and that you feel comfortable in, while at the same time avoiding revealing too much skin.
For example, for women, if you wear a dress that leaves most parts of your upper body exposed, it's against the church doctrines. Therefore, you should cover yourself using a fashionable shawl once you enter the church. It is also advisable to avoid dresses or skirts that are too short. If a dress or a skirt's length is shorter than your arm's length when you rest it at your side, then it is probably too short, and you should consider wearing something different.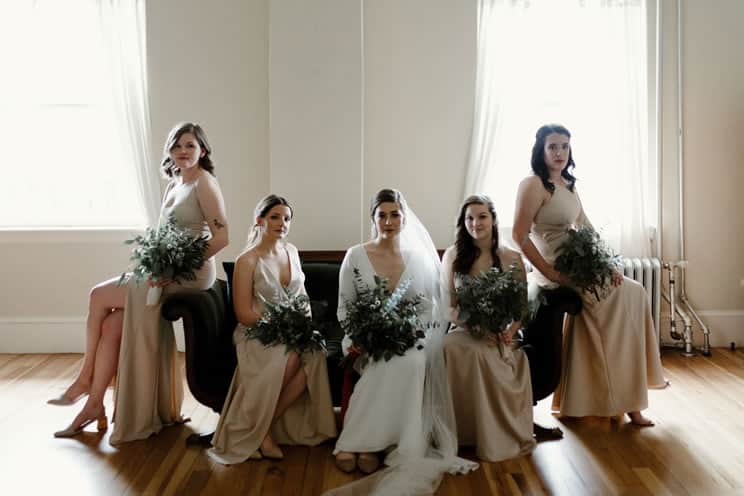 Men, just like women, should also dress modestly to Catholic weddings. Many times, when discussing modesty, people focus on women and forget to touch on men. Modesty is not only for women. When attending a Catholic wedding, a man should strive to wear an outfit that spells out responsibility. You cannot go wrong with wearing at least a shirt and a tie (if not a suit). It would be best to avoid pants that are too tight.
The definition of modesty in regard to how to dress for Catholic weddings varies depending on various factors. However, there are always some general tips that you can apply when preparing for any Catholic wedding. For instance, it is a wise idea to avoid low-cut outfits. Even if you will use a shawl to cover yourself, it is not a guarantee that you will not take the shawl off, even if for a few seconds to adjust it. Those few seconds are enough to turn heads for the wrong reasons.
So, what should you wear to a Catholic wedding? The following sections highlight what you should wear to a Catholic wedding.
What To Wear To a Catholic Wedding
When choosing the outfit to wear to a Catholic wedding, you need to consider several things.
First, is the dress code specified? Most Catholic wedding invitations will say, "semi-formal." This is a dress code that confuses many, but one that is quite simple to pull off. For a semi-formal wedding, wear something that lies between casual and formal. For an evening wedding, wear darker outfits and for daytime events, opt for light colors. Apart from light or bright colors, for morning weddings go for;
Floral patterns
Lace (remember to keep it modest)
A classy hat
With a semi-formal dress code, you need to ensure that you do not focus too much on the casual side. Since the dress code still requires you to look a bit formal, you must strive to look sophisticated. Men do not need to wear tuxedos, whereas women do not need to wear ball gowns but keep the casual side controlled.
Female guests can wear dressy skirts that are an appropriate length and tops to a semi-formal Catholic wedding. For male guests, dinner jackets and slacks are a safe option.
Since couples have different preferences, others might choose "formal attire" or "black tie optional" as their guests' dress code. Such a dress code does not mean that you must wear a tuxedo. However, it is better to overdress than to underdress. It is easier for men to deformalize an outfit and almost impossible to formalize it. For example, it is easy to remove a bow tie to deformalize an outfit. Wearing a glamorous gown when attending a wedding with "formal attire" as the dress code is a safe option for women.
Secondly, apart from considering the dress-code specified on the wedding invitation, considering the season is also important. For example, when attending a winter wedding, you need to consider the fabric you choose to wear. The fabric needs to be warm enough, especially if you will be attending an evening celebration. Men, too, should shop for warm outfits such as wool suits that are stylish and warm at the same time. Layering, when attending a winter wedding, is also a wise idea. You can always reduce the layers.
If you received a wedding invitation and there were no specifications on the dress code, you need to use your best judgment. When doing so, one of the questions that might cross your mind is whether it is a wise idea to wear black to a wedding.
Can You Wear Black To a Catholic Wedding?
The argument on whether or not it is appropriate to wear black to weddings is one that will not end anytime soon. So, can you wear black to a Catholic wedding? Yes, it is acceptable for you to wear your gorgeous black outfit to a Catholic wedding. It is only natural that you might immediately assume it is inappropriate to wear black to a Catholic wedding. For a long time, people claimed that wearing black to a wedding was a passive-aggressive way of objecting to the marriage. Considering that this is the 21st century, it does not seem logical to associate the color of an outfit with a marriage objection.
People that have attended Catholic weddings will tell you that they have at one time seen several black dresses, especially on young female guests. However, if you are still cautious about wearing black, but you want to wear your sumptuous black outfit, accessorizing it with colored accessories might give you the confidence you need.
It is also important to find out if there are any reservations about wearing black as it relates to the particular wedding you will be attending since situations vary. In some areas, black could still be considered taboo. 
Even though it is generally acceptable for you to wear black to a wedding, you need to consider some things before settling on your favorite black outfit. Some of the things you need to consider include;
The formality of the wedding – When attending a black-tie or formal wedding, you can comfortably wear a black outfit. On the other hand, if you attend a Catholic wedding in the relaxed countryside, where the wedding dress code is not formal, wearing a black outfit might appear too serious. Weddings taking place outside can also be less formal and require informal attire. 
The time of the day – Consider wearing black to an evening wedding and lighter colors if attending a daytime wedding.
Wearing a black outfit to a Catholic wedding is acceptable, but what remains unacceptable is wearing white. White, unlike black, is a color that is, in most cases, reserved only for the bride.
As a guest, apart from keeping in mind that you need to dress modestly, you also need to keep in mind that you should not wear anything that would draw attention to you and away from the bride. A white outfit can easily do that.
If you must wear an outfit with some white on it, you need to pick an outfit that will not upset the bride. For instance, you can wear options that have prints on them to a Catholic wedding and not upset the bride.
On the rare occasion that the bride and groom plan a white wedding and ask their guests to wear white, you can comfortably wear white.
It is also not advisable to wear outfits that look too much like those of the bridesmaids. Most wedding guests, especially female guests, make it a point to find out the wedding color scheme. They do so to match those of the bridesmaids.
It is a great idea to match the color scheme, but when you wear an outfit that almost resembles that of the bridesmaids, you might send the wrong message to them and the bride.
For instance, wearing a dress that almost resembles that of the bridesmaids can make them feel like you are offended for not being part of the team. Unless it happens as a coincidence, it is best if you avoided matching the color scheme to an extreme level. 
Apart from worrying about wearing black, Catholic wedding guests are also concerned about wearing some types of attires. For instance, they worry about wearing sleeveless outfits.
Do You Have To Wear Sleeves in a Catholic Wedding?
Since modesty is a top priority in Catholic weddings, it is only natural for guests to be cautious about wearing sleeveless outfits. Most Catholic churches have come to allow brides to wear sleeveless wedding dresses. If a priest allows a bride to wear a sleeveless gown, then chances are there is no issue with guests wearing sleeveless. Therefore, in such a case, guests should not feel uncomfortable wearing sleeveless attire.
Sleeveless attire can expose part of your shoulder and your entire arm. However, many religious leaders no longer associate wearing attires that leave arms and shoulders exposed to the eroticism some people associate with such dressing. Regardless, to be on the safe side, wear a shawl in church and then later remove it during the reception. Do so even with strapless outfits.
Now you have an idea of what to wear to a Catholic wedding. It is also important to know what not to wear to the wedding. Some of the errors people make when choosing what to wear to a wedding might not be so obvious and gathering some insight can help you avoid making a mistake, in case it was one you were planning to make.
What You Should Not Wear to a Catholic Wedding
Today, weddings have fewer rules, and Catholic weddings are not an exception. As long as you remember to remain modest, you have the freedom to showcase your sense of style and not try to imitate another's just because you are afraid of wearing the wrong outfit. Even though weddings have fewer rules, you should avoid breaking the few ones that exist. Some of the rules already discussed are;
Avoiding white attires at all costs and
Avoiding trying to look like the bridesmaids
The following additional not-so-obvious rules will help you understand what not to wear to a Catholic wedding and any other wedding. Once you finish reading these rules, you will be well on your way to picking the perfect outfit for that wedding event.
Rule 1: Avoid Sweats
Catholic weddings are rarely casual. Even if, by any chance, you have been invited to a casual event, the wedding can never be casual to the point of making wearing sweats a wise idea. It is understandable why many people love their sweats. Primarily, sweats are the most comfortable outfits ever invented.
Since the main reason why you would decide to wear sweats to a wedding is comfort, it would be best if you tried on that outfit and that pair of shoes before the wedding day to find out if they are comfortable. It might sound like only brides, grooms, bridesmaids, and groomsmen should do that, but guests too should fit their wedding outfits and shoes so that if they feel uncomfortable in them, they can look for alternatives early in advance.
Rule 2: Avoid Denim
Denim outfits, just like sweats, are too popular, but they are not ideal for weddings. Unless the invitation specifically states that you should wear denim, it is best to avoid it.
Rule 3: Avoid See-Through Material
Sometimes it is impossible to tell if an outfit is see-through unless you wear it under natural light. For this reason, you should not wait to try on your outfit on the day of the wedding ceremony. Try it on some days before in different lighted areas to find out if it is see-through. Remember to try it under both fluorescent light and natural light.
Since modesty is of the utmost importance when choosing the right outfit to wear to a Catholic wedding, you do not want to wear anything sheer to such a wedding. Sheer fabric is quite revealing, and you should opt for satin or chiffon. If you must wear sheer fabric, it is a wise idea to wear an outfit with sheer details and not one primarily made from sheer fabric. For instance, you can wear a chiffon dress with sheer sleeves.
Rule 4: Leave the Tiara for the Bride
Several brides wear tiaras on their wedding day. Since tiaras are generally headwear, female guests can easily purchase a tiara. Nonetheless, it is not wise to wear a tiara if the bride is having a fairy-tale wedding. There are many other types of headwear you can choose from, so it would be best if you did not share the spotlight with the bride.
Rule 5: You Can Do Without Those Shorts
It is a kind of a tradition for men to wear shorts to almost all social events. However, despite how casual a wedding is, you can attend it without wearing shorts. Try wearing a pair of khakis instead.
Final Remarks
If you are attending a Catholic wedding for the first time, feeling overwhelmed is understandable, especially because you are unfamiliar with what is expected of you. Besides keeping in mind that modesty is key, other tips, as shared in this article, can help you relax as you prepare to attend that wedding.
One important tip is to avoid wearing white to avoid drawing attention to yourself and away from the bride. Another important tip you should keep in mind that might still not be obvious to this point is that you should always feel free to ask questions. If you do not know what to wear on the wedding day and know someone who has attended a Catholic wedding before, ask them for advice.
Researching is also a way of getting the answers to your questions, but consulting friends and family can provide you with information you might not find while researching. The bottom line is that you should strive to find information that leads to choosing an outfit you feel comfortable in but one that ensures you observe certain protocols, where necessary.